A SLIME DRAWS NEAR!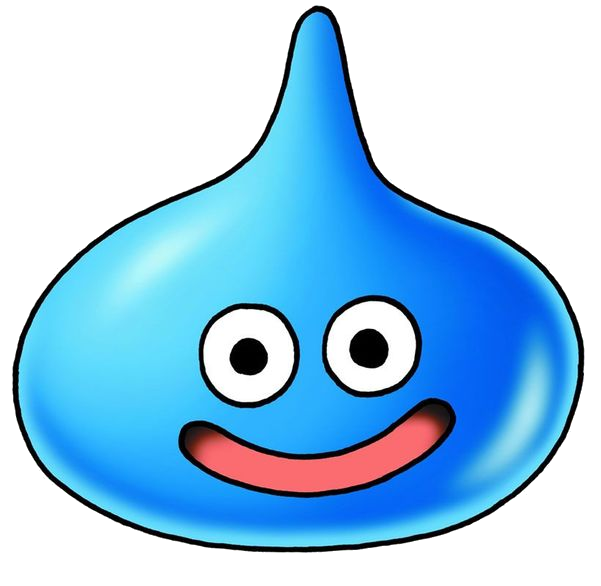 ---
ABOUT THE DRAGON QUEST GAMES
---
Dragon Quest is a franchise of Japanese role-playing games- the first game was released in 1986 and there are (as of 2022) 11 main series games and countless spin-offs and adaptations. The premise of most games is similar- a hero goes on a journey across the land to defeat some form of great evil, levelling up along the way, fighting monsters, meeting party members and exploring the world. The series features character artwork by Akira Toriyama, who also created and illustrated Dragon Ball and worked on games like Chrono Trigger and Blue Dragon. His art style is very recognizable and highly influential.
One of the most iconic monsters in the entire series is the humble slime. The slime was introduced in the very first Dragon Quest game, and quickly reached iconic status. The slime is now considered the mascot of the franchise- there is an entire slime family of monsters full of variation on the simple concept and design and the slime has an endless stream of merchandise, especially in Japan.
---
WHATS THE DEAL WITH THE SLIME?
---
I actually haven't played many of the Dragon Quest games, myself- I've only played 9 and 11 out of the mainline games, and a couple of the spinoffs. I was especially fond of the Dragon Quest Monsters series as a child, especially the Joker games for the DS. Mostly I care about Dragon Quest monster design because I think they're all so charming- the slime especially. It's such a simple design, and somehow Toriyama managed to condense so much silly joy into one little blue droplet. It inspired countless other RPG slime designs and is possibly the most familiar RPG enemy of all time. I just think that Dragon Quest slime is adorable- so this is my space to celebrate the slime!
---
ITS SLIME TIME!
---
Here's just a few of the many members of the slime family! Hover over the images to zoom in...
---
LET'S GOO!
---